It is fantastically cold outside today. Going to evangelize in my city's bar district was the last thing I wanted to do this afternoon, but I couldn't leave the men I go with on the frontlines by themselves. And I'm so thankful I went. Let me tell you one brief story.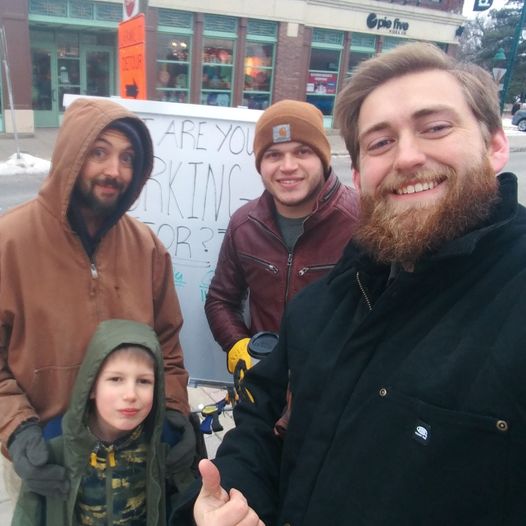 As Jared and I had the honor of suffering the cold, we encountered a young man walking by named Steven (not pictured). He's a bright young man, working hard every day, from a nice, irreligious family. He said he had never thought about Christianity before or explored it's truth, never even had a Bible. He said he's also seen us holding our anti-abortion signs on the street corner in front of his workplace.
We then shared the good news of Christ's hope for every sinner who turns and trusts on Him, and Jared ended by asking him to look up John online and read it.
I had been a selfish coward before, and I wasn't going to make the same mistake this time. I have over a dozen Bibles, and yet in the past I have been afraid to give away my personal Bible when it's the only one I had on me because of my sentimentality toward it. Yet now, it was the only one I had and this man had no Bible. So as we parted, I handed him my beat-up, hardback Bible of 6 years with the bookmark set at John.
He said, "Oh man, You don't have to do that!"
I replied, "I don't have to. I want you to have it."
He walked away gratefully, and I won't miss that Bible for one second. Now pray with me that the Holy Spirit draws Him to read and trust in the precious words written therein.
Because all I wanted to do this afternoon was complain of the cold, but I realized that it's time I grow tired of complaining. I am not the first to suffer cold for the service of God, and I am the least. After all, one hour in a heavy coat in the cold hardly compares to the Apostle Paul:
"[I ᴀᴍ ᴀ sᴇʀᴠᴀɴᴛ ᴏғ Cʜʀɪsᴛ] ᴡɪᴛʜ ғᴀʀ ɢʀᴇᴀᴛᴇʀ ʟᴀʙᴏʀs, ғᴀʀ ᴍᴏʀᴇ ɪᴍᴘʀɪsᴏɴᴍᴇɴᴛs, ᴡɪᴛʜ ᴄᴏᴜɴᴛʟᴇss ʙᴇᴀᴛɪɴɢs, ᴀɴᴅ ᴏғᴛᴇɴ ɴᴇᴀʀ ᴅᴇᴀᴛʜ. Fɪᴠᴇ ᴛɪᴍᴇs I ʀᴇᴄᴇɪᴠᴇᴅ ᴀᴛ ᴛʜᴇ ʜᴀɴᴅs ᴏғ ᴛʜᴇ Jᴇᴡs ᴛʜᴇ 39 ʟᴀsʜᴇs. Tʜʀᴇᴇ ᴛɪᴍᴇs I ᴡᴀs ʙᴇᴀᴛᴇɴ ᴡɪᴛʜ ʀᴏᴅs. Oɴᴄᴇ I ᴡᴀs sᴛᴏɴᴇᴅ. Tʜʀᴇᴇ ᴛɪᴍᴇs I ᴡᴀs sʜɪᴘᴡʀᴇᴄᴋᴇᴅ; ᴀ ɴɪɢʜᴛ ᴀɴᴅ ᴀ ᴅᴀʏ I ᴡᴀs ᴀᴅʀɪғᴛ ᴀᴛ sᴇᴀ; ᴏɴ ғʀᴇǫᴜᴇɴᴛ ᴊᴏᴜʀɴᴇʏs, ɪɴ ᴅᴀɴɢᴇʀ ғʀᴏᴍ ʀɪᴠᴇʀs, ᴅᴀɴɢᴇʀ ғʀᴏᴍ ʀᴏʙʙᴇʀs, ᴅᴀɴɢᴇʀ ғʀᴏᴍ ᴍʏ ᴏᴡɴ ᴘᴇᴏᴘʟᴇ, ᴅᴀɴɢᴇʀ ғʀᴏᴍ Gᴇɴᴛɪʟᴇs, ᴅᴀɴɢᴇʀ ɪɴ ᴛʜᴇ ᴄɪᴛʏ, ᴅᴀɴɢᴇʀ ɪɴ ᴛʜᴇ ᴡɪʟᴅᴇʀɴᴇss, ᴅᴀɴɢᴇʀ ᴀᴛ sᴇᴀ, ᴅᴀɴɢᴇʀ ғʀᴏᴍ ғᴀʟsᴇ ʙʀᴏᴛʜᴇʀs; ɪɴ ᴛᴏɪʟ ᴀɴᴅ ʜᴀʀᴅsʜɪᴘ, ᴛʜʀᴏᴜɢʜ ᴍᴀɴʏ ᴀ sʟᴇᴇᴘʟᴇss ɴɪɢʜᴛ, ɪɴ ʜᴜɴɢᴇʀ ᴀɴᴅ ᴛʜɪʀsᴛ, ᴏғᴛᴇɴ ᴡɪᴛʜᴏᴜᴛ ғᴏᴏᴅ, ɪɴ ᴄᴏʟᴅ ᴀɴᴅ ᴇxᴘᴏsᴜʀᴇ. Aɴᴅ, ᴀᴘᴀʀᴛ ғʀᴏᴍ ᴏᴛʜᴇʀ ᴛʜɪɴɢs, ᴛʜᴇʀᴇ ɪs ᴛʜᴇ ᴅᴀɪʟʏ ᴘʀᴇssᴜʀᴇ ᴏɴ ᴍᴇ ᴏғ ᴍʏ ᴀɴxɪᴇᴛʏ ғᴏʀ ᴀʟʟ ᴛʜᴇ ᴄʜᴜʀᴄʜᴇs. Wʜᴏ ɪs ᴡᴇᴀᴋ, ᴀɴᴅ I ᴀᴍ ɴᴏᴛ ᴡᴇᴀᴋ?"

𝟐 𝐂𝐨𝐫𝐢𝐧𝐭𝐡𝐢𝐚𝐧𝐬 𝟏𝟏:𝟐𝟑-𝟐𝟗
So smile when it's cold. And keep going.
– From Valley on Facebook – https://www.facebook.com/AIMkansas/